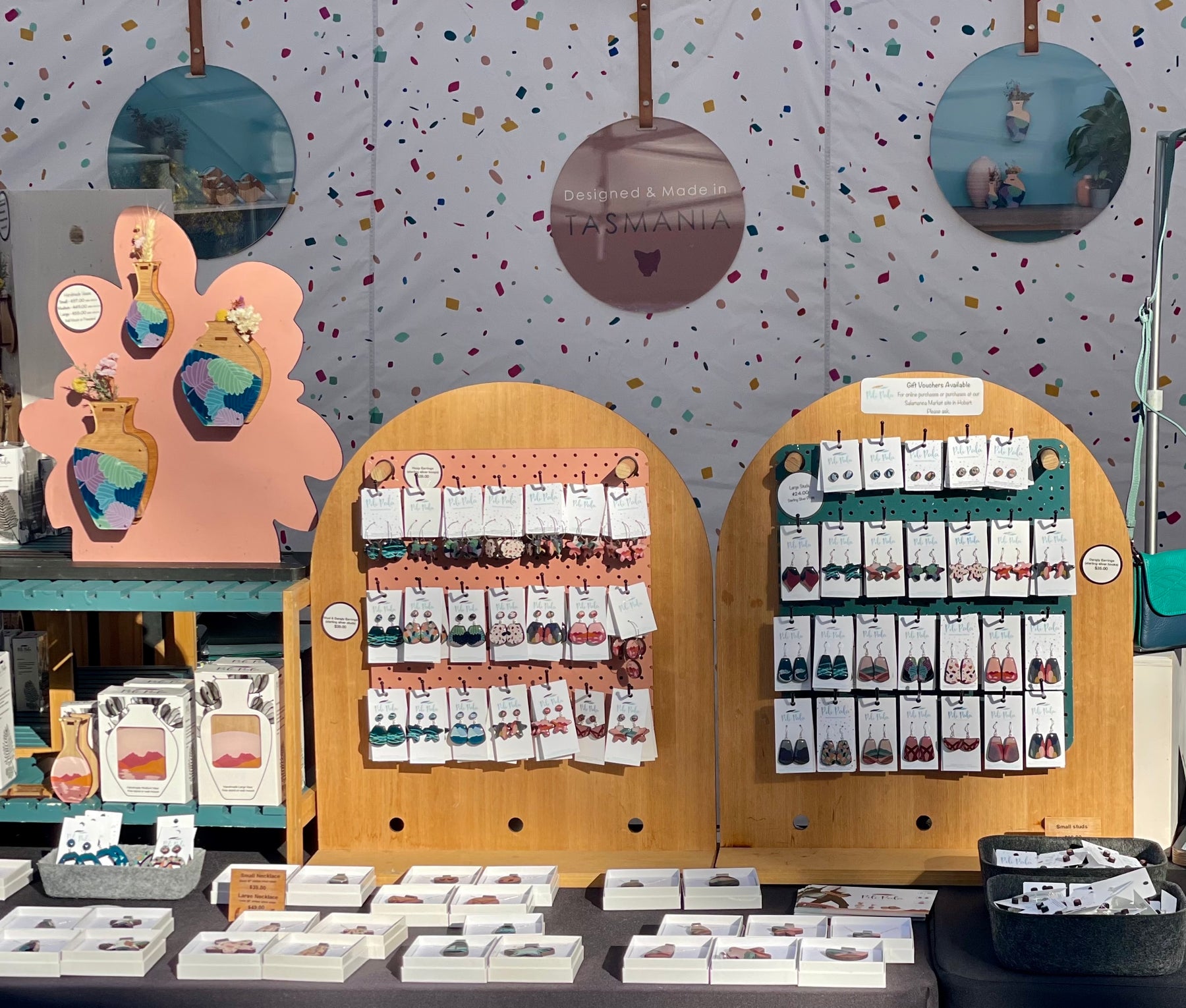 Position Available: Market Retail Whiz
Are you an awesome sales person who would love to work in retail with happy holiday makers?
Pili Pala is a long standing local brand designing and creating handmade gifts, jewellery, homewares and leather accessories. We are proud to be a Tasmanian brand dedicated to using skilled craftmanship to offer unique and joyful range of wares. We are looking for the newest member of our team to spread the joy of what we do, to visitors at Salamanca market. For the perfect applicant, additional hours will also be available during week days in our Bellerive studio as a studio assistant (making, packing, beautifying etc).
We're searching for a casual retail sales expert to work Saturdays at our Salamanca stall in Hobart (approximately 7.00am – 4.00 pm approximately every 2nd Saturday). The perfect applicant will have previous retail/hospitality experience, will have impeccable communication skills, be confident and outgoing and be a quick learner. They will also be competent working independently, willing and physically capable to set up/pack up the stall, willing to drive a van (automatic), and maintain a positive attitude in all weather conditions. Please note: this is not a short term or seasonal position.
Key Responsibilities:
Providing exceptional customer service to people from all walks of life.

Having a passion for selling.

Showing initiative.

Being willing to manage and operate the stall independently to a high standard.

Demonstrating attention to detail.

 

Being genuinely interested in, and passionate about, the brand.

 
Skills and experience:
Proven retail and customer service experience.

An eye for visual merchandising.

Brilliant communication skills.

A passion for interacting with people.

Reliable, punctual and honest.

Well presented.
Specific duties will include, but will not be limited to:
Driving a van to and from the market. (Drivers license essential).

Setting up and packing up the market stall (i.e.; must be physically able to lift tables, marquee, props and product crates, etc.)

Managing cash and point of sales system (training provided).

Understanding products and the way they function and are made (training will be provided)

Liaising with multiple customers at once.

Merchandising the stall in a visually appealing way, maintaining its presentation throughout the day, and keeping the stall tidy.

Being a positive, trustworthy ambassador for the brand.

Having fun and enjoying relationships with other stallholders and market crew. (We have a fantastic crew of supportive and fun stall holder neighbours!)
In your application email please include;
Past work experience, particularly in relation to customer service.. 

Age and proximity to Hobart

Why these hours would suit you

Availability to commence work

Contact details

Any other fun facts about you and why you're the one we're searching for. (A photo would be beneficial and for bonus points, a 30 second video about why you should be the next member of the Pili Pala Team) 
Send your application to helen@pilipalapieces.com.au
 with the subject line "Probably Pili Pala's Perfect People Person".