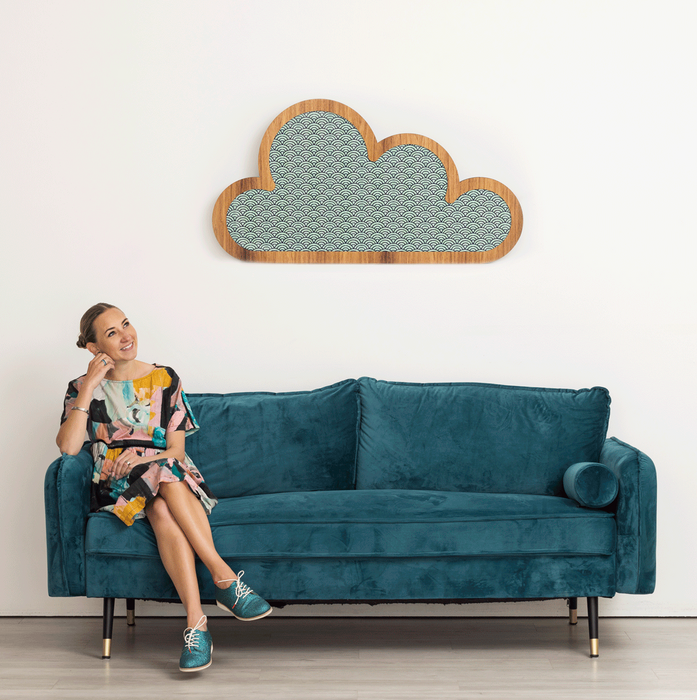 CUSTOM HUMONGOUS CLOUD!
TA DA! Want to make a statement in your home? It's the MASSIVE cloud you never knew you needed!
Your HUGE cloud will be custom made for you in our Hobart studio with your choice of either a Tassie Oak or Tassie Blackwood frame. 
DESIGN: Teal Wave print sourced from a vintage Japanese artwork from the late 1800's. Printed using the highest grade pigment inks, the gicleé printing process on archival paper guarantees a fade resistant print for more than 100 years. 
DIMENSIONS: 1100mm w x 590mm h x 20mm d. 8 kgs.
Please allow up to 3 weeks for your cloud art to be made and dispatched. 
** Cost includes freight charges within Australia. Hooray!!! ***
This is the largest sized cloud I can make, however feel free to get in touch if you'd like to order a smaller sized cloud. OR - for even more fun - I can also make sets of 3 wall clouds (each size is different: this size would the largest cloud.) Email Helen to discuss your dream clouds: helen@pilipalapieces.com.au
Please note: A picture hanging rail is included for wall mounting. It will require you to attach the rail to the cloud with screws (all provided) and then the matching rail can be secured to the wall. You may have other ideas about how you'd like to hang your cloud though and that's ok too! Note; Screws secured to the cloud cannot be longer that 12mm.