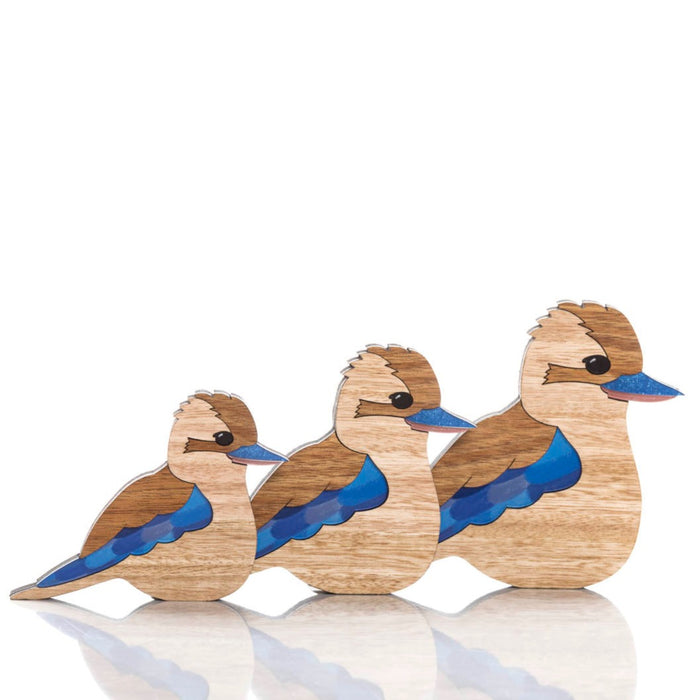 Kevin the Kookaburra (set of 3)
Introducing Kevin; the newest (and loudest) member of the Pili Pala family. He's pretty happy to be here - he told me himself!

Where can you imagine Kevin (and family) being displayed in your home? Your bedroom, lounge room, kitchen, boat, caravan, kids room? Every room??!!! Keep in mind that he will very happily stand on your favourite buffet or window sill, but is equally delighted to feature on your favourite wall as well.
He's the cutest, proudest, cheekiest chap around and is sure to add a splash of happiness to your home. He features elements of Tasmanian oak and Tasmanian blackwood in addition to pops of colour from Helen's abstract artworks. Who doesn't need a Kevin in their life?!

Your set of birds come beautifully packaged in a calico bag and are protected well for flight/shipping. To mount them to the wall we recommend using velcro wall stickers such as those by 3M or Command. (Use 2 - 3 stickers per bird).
Dimensions ~ small:10.5cm h x 13 cm w, medium: 12.5cm h x 16cm w, large: 14.5cm h x 19cm w, and are 1.5cm thick. The back of the birds is painted black.