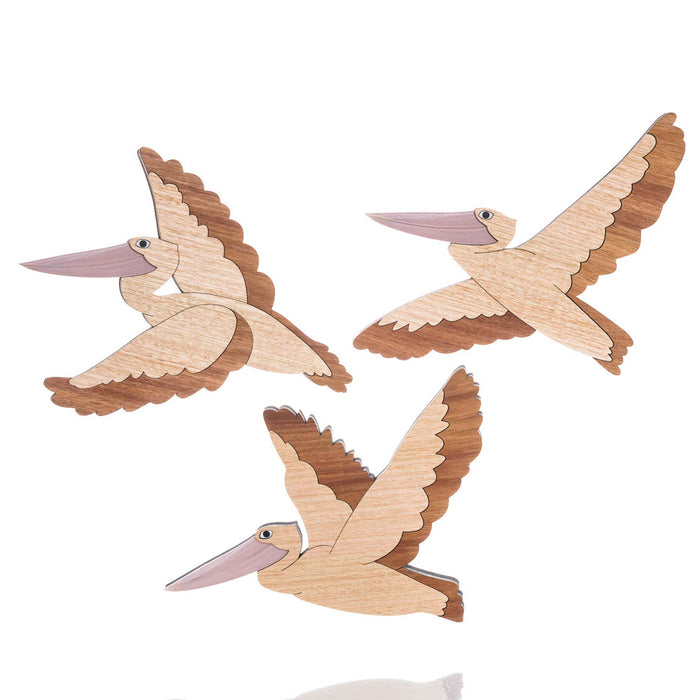 Grand Sized Pelican Pod (set of 3)
Say 'Hello' to Percy, Pepper and Peanut, our brand new GIANT pouch of pelicans. These stunning pieces of art are guaranteed to make a massive statement on any wall. We can imagine these beauties in a business foyer, on a grand entry wall, above your bed or anywhere that needs a bit of pizazz! 

Birds are one of our favourite things here at Pili Pala and we are so excited to add these pelicans to the family. They feature Tasmanian oak and Tasmanian blackwood elements in addition to a beak with a pink textured effect; one of Helen's artworks. They are akin to the flying ceramic ducks of the 50's - but MUCH bigger and with SO much character.

To mount them to the wall we recommend using velcro wall stickers such as those by 3M or Command. (Use at least 5 stickers per bird).
Dimensions ~ Birds range from: 36cm - 43cm high x 40cm - 48cm wide, and are 1.5cm thick. The back of the birds is painted black. For a rough size reference, hold up 3 x A3 pieces of paper on your wall to represent the size of each bird. You'll get the idea of where they might work best in your home!
Note: these are our GIANT sized pelicans. There are also some stunning standard sized versions available too.